Pandemic-induced pains continued into 2022, including global supply chain disruptions and labor shortages caused by the Great Resignation, two years after COVID-19 changed the world. Then, in February 2022, Russia invaded Ukraine, sparking widespread international condemnation and sanctions as well as humanitarian and economic crises. 
The convergence of these and other events have resulted in dramatic industry impacts such as record-high diesel prices, severe equipment and parts shortages, skyrocketing inflation, and persistent workforce shortages ranging from drivers to technicians to warehouse and distribution center workers in the US. In such a volatile market, fleets and trucking companies need to constantly balance expenditures to incur profits. As fleet managers and fleet owners, you are probably wondering how to maintain those top lines and bottom lines, cut down spending, and get the best out of your resources. 
A simple way to cut down on high spending is re-using old equipment. But can old equipment really help cut down costs? Will it not harm your fleet in the long run? Amidst an equipment and vehicle shortage in the market, do fleets have other options even? We discuss how you can make equipment and vehicles last longer and provide more bang for their buck, allowing you to avoid spending on unneeded repairs and downtime. 
Why is There an Equipment and Vehicle Shortage in the Market?
As COVID-19 hit the world in 2020-21, supply chains experienced volatile tremors across all aspects. As fleet managers and owners, you probably recall the mad scramble to match supply to increasing demand, as lockdowns forced people worldwide to work from home.
In fact, according to a Digital Commerce 360 analysis of US Department of Commerce figures, e-commerce sales in the US reached $1.03 trillion in 2022. This is the first time that e-commerce revenue has surpassed $1 trillion.
It was also significantly higher than the $960.44 billion set for 2021. With such high sales even in 2022, when inflationary pressures finally hit the market, cooling down prices, fleets like yours have probably been expected to operate on steroids.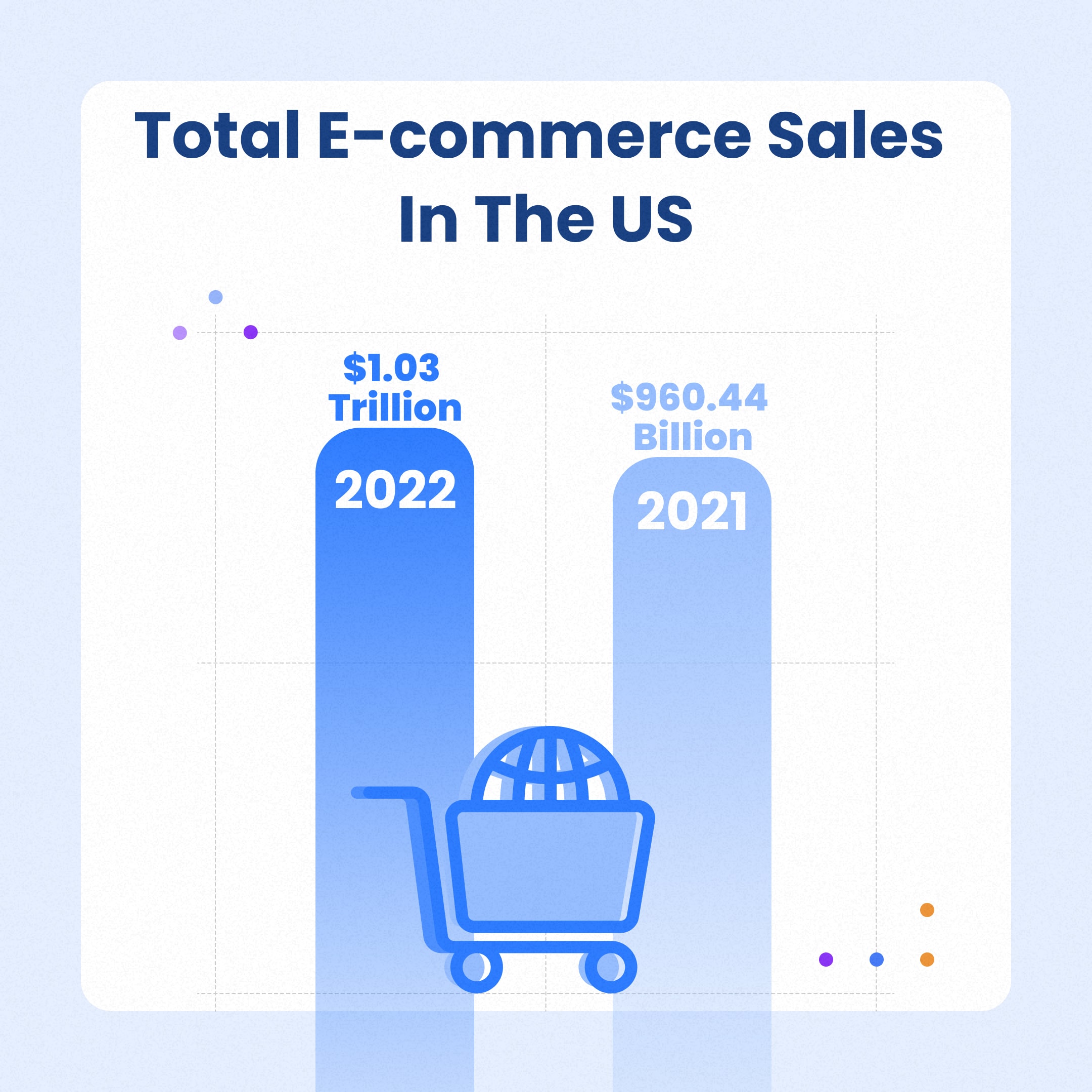 This rising demand really pushed logistics players to increase capacity. For instance, allied industries like OEMs (original equipment manufacturers) had difficulty producing trailers and equipment to match this demand.
According to OEM data, truckmakers intended to build 81,000 Class 8 trailers in the 3rd quarter of 2022, 77,000 in the 4th quarter, and 81,000 in the first quarter of 2023.
However, there are an additional 28,000 orders in the Q3 backlog and another 20,000 in the Q4 backlog. Labor shortages, semiconductor and part shortages, and COVID-related challenges ensured that manufacturers and truckers could hardly play catch up.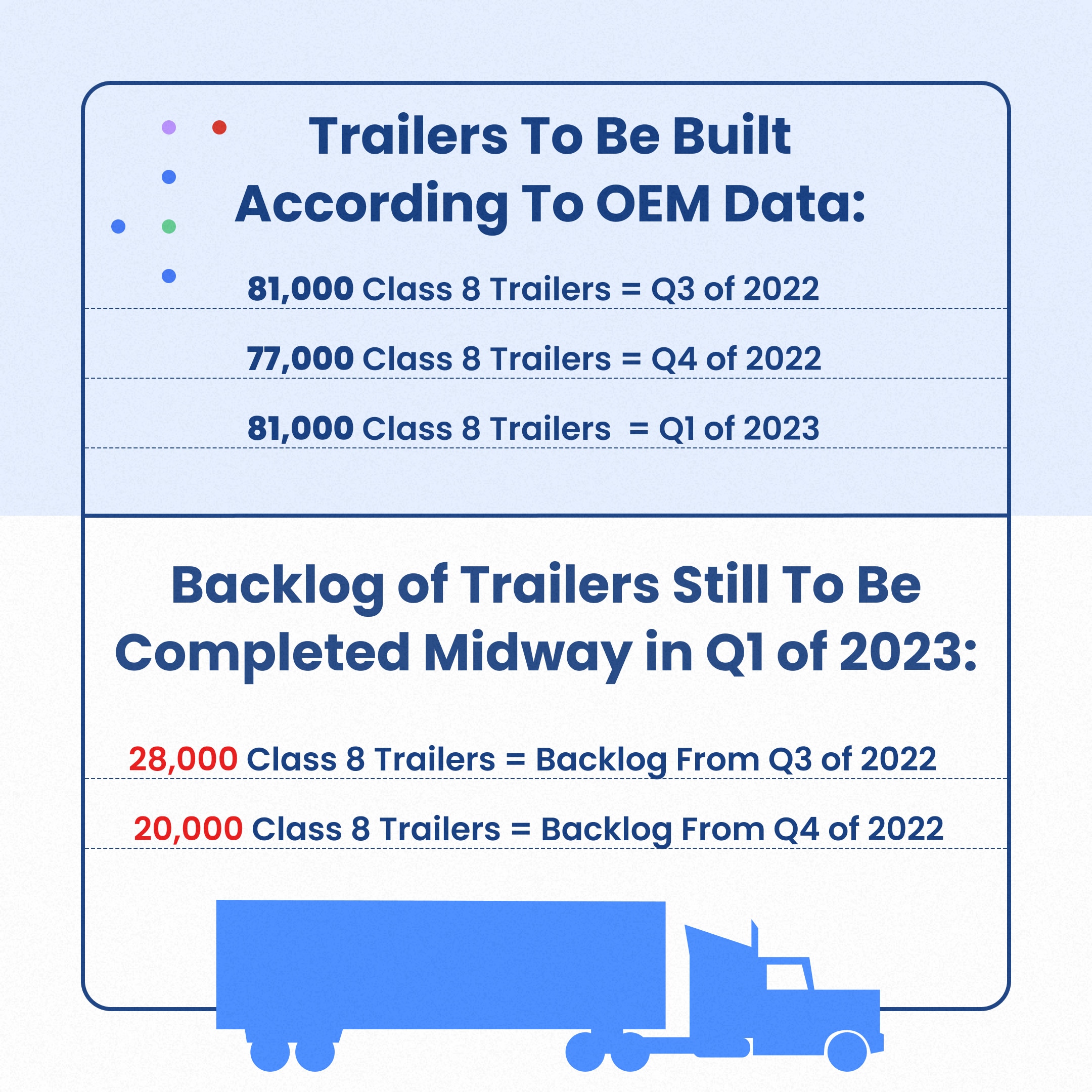 How is Equipment and Vehicle Shortage Undermining Fleet Operations?
Essentially, economic activity generates freight, and freight generates profits for carriers. It is these profits that drive equipment demand for fleets. As fleet managers or owners, you've probably struggled with buying and maintaining equipment when profits are not made. 
Maintaining equipment and ensuring it is up to standard is a huge part of ensuring every fleet's health. While some vehicle downtime is inevitable for fleets, accidents due to old, poorly maintained equipment can cause massive losses to your fleet. You may have vehicles getting out of commission or staying idle longer so that they can be repaired after these events. Downtime is tangible and can be translated into dollars for many company fleets. In fact, downtime costs a fleet an average of $448 to $760 per vehicle per day, which adds up quickly.
So Why do Fleets Still use Old Equipment?
Whether it's the lack of supply from OEMs (original equipment manufacturers), or inflationary pressures, fleet managers and fleet owners like you probably know that you can save precious dollars by using (or re-using) old equipment.   
In fact, ATRI's research in 2022 on rising insurance costs documented a 47% increase in insurance premium costs per mile between 2010 and 2020.
To offset those rising insurance costs, participating fleets (in the survey) reported a number of cost-cutting measures, including reducing salaries, wages, and bonuses, lowering their levels of excess insurance coverage, and delaying new equipment purchases.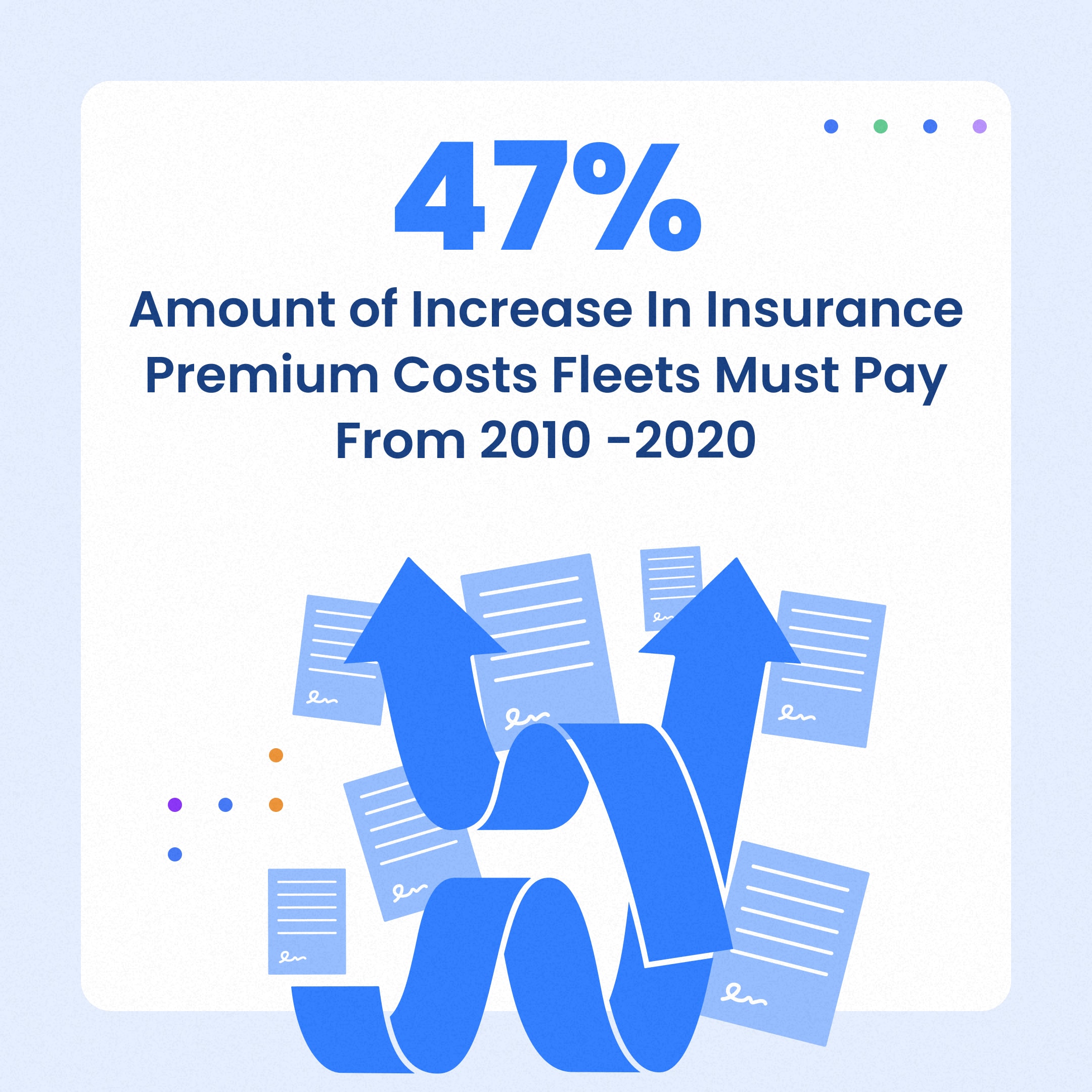 Fleet Managers Turn to Preventive Maintenance to Navigate Equipment Shortages and Inflationary Pressures
Since it's impossible to know if new black swan events or natural calamities will pop up, fleet managers and fleet owners need to have some simple strategies ahead of the curve to beat equipment and vehicle shortages. One of the most powerful ways fleet managers and fleet owners can gain control of their assets is by prioritizing preventive maintenance.
In order to cash in on existing equipment, fleets need to ensure timely and regular preventive and scheduled maintenance. Without buying a significant number of new trucks or acquiring another small fleet, your fleet will inevitably increase its deadhead percentage points and get a drop in loaded miles per available vehicle. To prevent this, fleets must ensure that all systems in each vehicle are working to full capacity and ready for the latest journey. 
All you need to do is leverage the power of preventive maintenance to get there. Telematics or IoT tools can be used to regularly check on equipment and vehicles. These can intelligently guide you as fleet owners or managers and alert you to maintenance needs.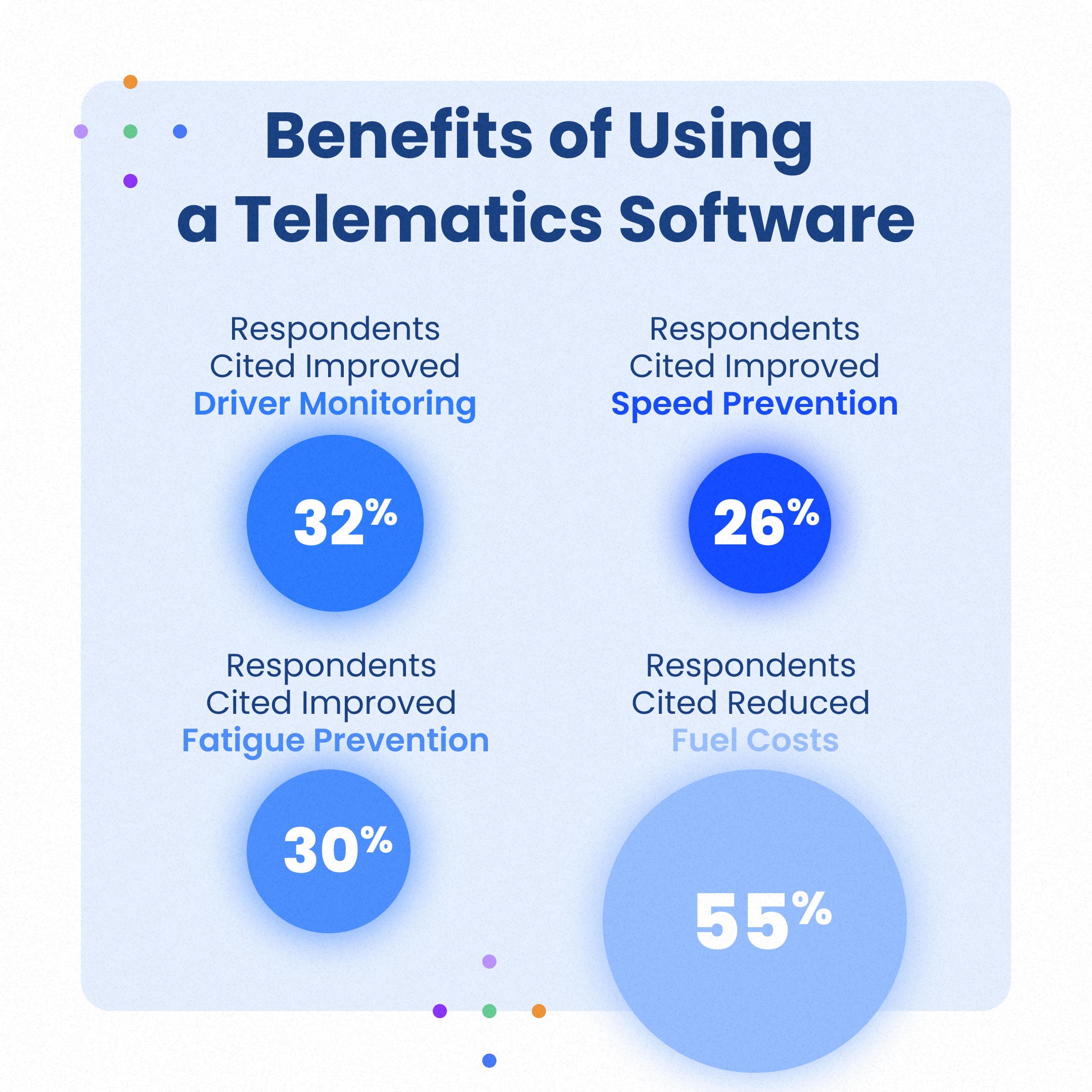 In fact, according to a 2019 survey, telematics and maintenance helped improve overall fleet safety, with nearly a quarter of the respondents citing driver monitoring (32%), speed prevention (26%), and preventing driver fatigue/exhaustion (30%) as top telematics-related safety benefits. 55% of fleets even reported reduced fuel costs from using telematics software – a huge win considering that fuel is the largest expense for 32% of fleets. All of these directly contribute to a healthier, more efficient fleet. 
As a fleet owner or fleet manager, you've probably had to compromise and make do with old equipment to cut costs.
But this can result in more significant downtime due to a higher risk of equipment failures and overall more considerable shortages, with more trucks/ vehicles out of commission.
Instead, a comprehensive preventive maintenance plan can help fleets of all sizes to use and reuse old equipment optimally.
For instance, Fleetpal, simple software designed to track and solve every maintenance issue for fleet managers and owners, can help you with all your preventive maintenance needs.
Fortunately, the benefits of a preventive maintenance program aren't a luxury that only big national fleets can afford anymore. Contact us today to learn how our Fleetpal maintenance management software helps fleet managers, maintenance managers, and suppliers collaborate.