Optimal Fleet Performance Starts With Fleetpal
Access Fleetpal's comprehensive features and streamline fleet maintenance.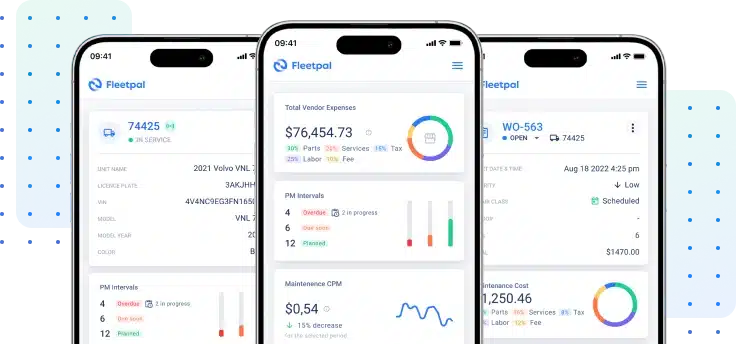 Say goodbye to one-size-fits-all pricing and embrace a partnership with Fleetpal that's as unique as your fleet.
No two fleets are the same, and your fleet maintenance requirements deserve a pricing structure that reflects your specific goals and fleet size. That's why our pricing is completely personalized to each and every client. 
Whether you're a small business managing a handful of vehicles or a large enterprise with a massive fleet, we're committed to crafting a pricing plan that aligns seamlessly with your objectives, ensuring you get the most value out of Fleetpal's powerful fleet maintenance software.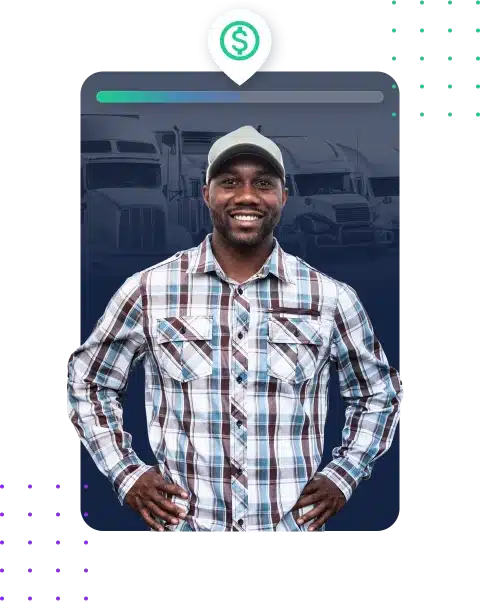 Streamline maintenance operations, track activities, and increase productivity.
Vehicle Inventory Management
Record precise and detailed data on your fleet's assets. Spot issues on time and act before the critical point.
Stay in control of the parts in your repair shop, and avoid unnecessary expenses and stockouts.
Store essential data on vendor work orders and keep your partners' details all in one place.
Create, monitor, and approve POs. Automatically verify vendor work orders and track payments.
Unlock the full potential of preventive maintenance with powerful PM intervals. Scheduling, reminders, and more.
Sync your Fleetpal account with Telematics and other third parties for real-time data.
Preventive Maintenance Reporting
Compare your preventive maintenance closed tasks to your fleet's PM schedule.
Identify the repair classes that account for the majority of your fleet's downtime.
View a breakdown of your vendor expenses and determine their portion of your total costs.
Instantly spot trends in your fleet's Cost Per Hour over different periods of time.
Determine the costs of using your fleet's assets and take strategic steps to achieve cost reductions.
Does your fleet have more than 100 assets?
Fleetpal is specifically designed to cater to the fleet maintenance needs of both small and large companies. If you have a fleet of more than 100 assets, get in touch with us, and let's talk about how we can help.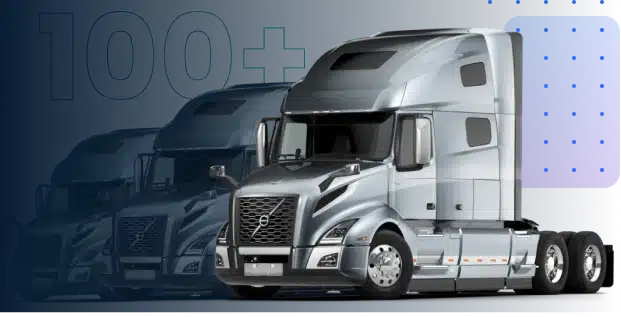 Why Fleets Of All Sizes Love Using Fleetpal
Fleetpal allows us to track almost all components of a truck. The online fleet maintenance software organizes the parts in different categories and subcategories, so we can see where we are spending the most money. It also keeps track on truck parts and their warranties.
Easy to use! Entering work orders into the system is just a matter of point and click, less searching for different items and topics in the web-based fleet maintenance software. Excellent way to track expenses per unit making it easier to calculate CPM on each vehicle, thus helping decide which units need to be replaced rather than just how old a vehicle is or how many miles.
Truck maintenance can be expensive. Before using FleetPal, it was a pain to keep track of maintenance costs and records. Now, I can input data and keep track of costs in a simple fleet maintenance software.
How do you create your pricing plans?
We offer personalized pricing structures for each client based on a wide array of factors. For example, we consider fleet size, specific software requirements, feature usage, and more. We'll explain everything from A to Z once we get to know your business.
Can I use the Fleetpal fleet maintenance software on a mobile device?
Yes, to make your fleet maintenance processes even more efficient, download the Fleetpal progressive app on your mobile device. You can learn more about how to download a progressive app here.
Do you offer volume-based discounts?
Yes, you can contact sales to discuss volume-based discounts.
Are there any additional costs I should know about?
No, we offer a fully transparent fleet management software pricing structure. There are no additional setup fees, account management fees, or other undisclosed expenses.
What fleet sizes is Fleetpal appropriate for?
Our fleet management system is suitable for fleets of all sizes. Whether you have a fleet of 20 trucks, 50 vans, or 500 mixed assets, Fleetpal's features and capabilities can help you reduce downtime, minimize money loss and exploit your fleet to its full potential.
Join Other Fleets Of All Sizes That Are Already Using Fleetpal And See For Yourself