In today's fast-paced dynamic world the trucking industry is experiencing rapid change which has both positives and negatives. New regulations, tighter margins, and increased competition all present challenges while new technologies offer valuable tools to help fleet managers turn challenges into opportunities. A successful fleet begins with choosing the right fleet maintenance software.
What should you look for in fleet maintenance software?
Whether you're an independent owner-operator or in charge of multiple hubs nationwide, fleet maintenance software should make record-keeping and reporting efficient, offer accurate tracking, and empower confident planning and prediction. 
One of the biggest challenges when it comes to selecting the right fleet maintenance software is being spoiled for choice. With so many options out there offering a range of attributes selecting the right one can be a daunting task, so we've made it easier. Here we'll discuss the 4 features that should be on your radar when choosing a fleet maintenance program and how they can benefit your business.
Asset Management
Asset management is a fundamental feature of any fleet management and maintenance software. Regardless of the size of your fleet, you need to be in control of the assets that make up your business from acquisition to divestment.
The best software available will offer functions that allow you to build a customizable database, create codes, and group your assets. The combination of these measures will lead to greater efficiency and improved results in areas such as:
Additionally, quality fleet management software will make it easy to update files as assets are added or removed from your fleet. The reduction in clerical work frees up time and resources for projects that have a greater impact on the bottom line.
Consider the asset management capability of any fleet management program as the foundation for the other features it delivers. Offering an accessible, shareable, and indexed hub for your fleet information opens the door for functions that allow for better results from your operation.
Maintenance Management
It's tough for a fleet to turn a profit when it's sitting still, but it can be just as challenging to maintain a healthy fleet that's constantly in motion. The only way to ensure your fleet remains profitable is to take a proactive approach to maintenance. The alternative results in an unproductive fleet that is costly for your business.
It can feel counterproductive to take your trucks off the road, but an unreliable vehicle will ultimately cost your company more. The time that trucks are being serviced and aren't generating revenue is outweighed by the higher steady profits that an efficiently run fleet can bring. Eventually, all vehicles have to be taken out of service for maintenance. The key is to manage these competing demands by making maintenance as efficient as possible and scheduling it in ways that minimize the impact on operations.
Even for one single truck, it takes a lot of coordination to develop a balanced maintenance structure. By using software to organize and manage the process, a great deal of time-consuming work is eliminated.
Vehicle repair software will help you manage crucial tasks such as:
You should be able to easily schedule repairs and maintenance while avoiding conflicts, minimizing downtime, and avoiding the high cost of emergency roadside service.
Annual inspections and other routine requirements can be hard to keep track of but failing to get them done can result in out-of-service units as well as fines and fees.
Knowing when a unit is going to be due for service and how much downtime to anticipate is crucial to keeping your operation profitable and never missing a load due to maintenance-related scheduling conflicts.
One of the most labor-intensive parts of your maintenance program can be all but eliminated with software that helps you go paperless.
Another benefit of paperless record keeping is efficient reporting between departments and to outside agencies.
If you've ever found a costly problem a few thousand miles or a few weeks after a warranty expires, you know how frustrating it can be.
Information Management
Paperless data collection is an essential feature of fleet maintenance software and one that certainly pays off. Ensuring all team members have access to the information they need is a huge facet of a successful fleet operation, but ensuring that the information is easily accessible is another story. With reliable fleet management software, managers can rest easy knowing that the right people have visibility into the appropriate data.
In the days of filing cabinets and paper documents, more staff was needed to manage the influx of information and source requested documents for employees. Fleet maintenance software allows you to throw "best guesses" out the window and make informed decisions based on data-heavy organized reports.
With digitized information, your team has full access to all documents 24/7. The long-winded process of requesting materials, putting together reports, sending them over, and so on is obsolete in today's technology-driven world.   
Any good fleet maintenance software will make it easier for you to gather, access, share, and act on important information. The best options for the trucking industry will incorporate industry-specific elements like VMRS Codes and offer customizable solutions for your business's unique proprietary needs.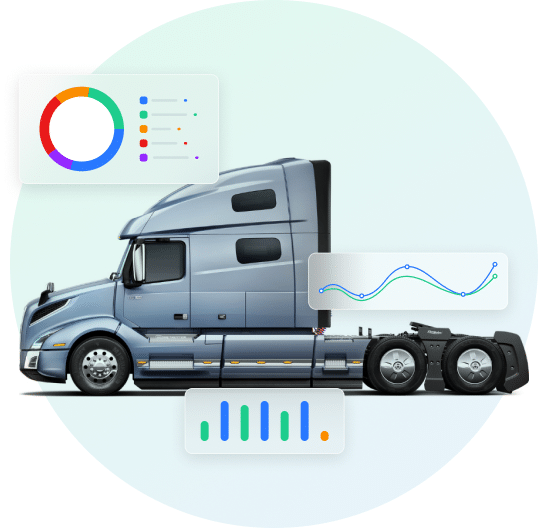 Results
The only true way to determine if you're utilizing the right maintenance and management solution for your fleet is to measure results. Just as important as it is to perform due diligence prior to selecting a fleet management software, it is important to continue evaluating its performance over time. All of the high-tech gadgets and extras in the world won't amount to much if they don't deliver measurable results for the bottom line.
When monitoring your fleet, determine whether your maintenance and management software is delivering results in the following areas:
Are your trucks spending more time on the road, remaining profitable, even as you carry out preventative maintenance?
Are preventative maintenance and timely repairs helping to reduce the number of high-dollar repairs?
Has better record-keeping and reporting led to safer operations and full compliance with federal regulations?
At the end of the day, the most noteworthy question to ask is are informed decisions leading to increased profitability for your business?
Checking every box isn't an easy feat when it comes to fleet solutions, but some packages focus on different areas more than others, making it all the more possible to find the ideal management software for your fleet. 
Some fleet management solutions emphasize asset management and deliver everything a fleet manager needs, while others underline preventative maintenance and heavy-duty truck repair. While many options offer different components, finding one that is strong in each of these 4 areas is a guarantee your search is on the right track.
Use Fleetpal to get better results for your business
At Fleetpal, we've spent years studying the challenges that professionals in the trucking industry confront daily and are proud to eradicate those obstacles with our industry-leading software. 
We've looked at what fleet management and maintenance software does well, could do better, and what it doesn't do at all to fill a gap in the industry. Finding ways to do better has always been our goal.
Fleetpal's maintenance and management software taps into the skills, knowledge, and experience that professionals working in this industry have. What we bring to the table is the opportunity to create something greater than the sum of its parts. We invite you to try the tools that Fleetpal provides and see the difference it can make to your fleet.