In an ever-evolving digital world, keeping up with the latest innovative technologies is imperative to connecting with your audience and providing an accessible service. Switching to paperless vehicle inspections is just one step that fleet managers can take to establish a more efficient management system. 
With the pandemic, nearly all businesses were required to adopt new structures so they could stretch their services as far as possible while still adhering to safety protocols. This introduced digital avenues for practically all administrative tasks, and many updated procedures seemed to solve long-term challenges. Electronic vehicle inspections are certainly one of those cases and are on their way to becoming an industry standard.
If a stress-free inspection process sounds like a dream, it's time to modernize your fleet's operations with electronic reports. Digitizing the steps of fleet management does more than lighten a manager or technician's workload; it ultimately improves the business as a whole by cutting costs, time, and actions. 
How can paperless vehicle inspections improve your business? Here are five benefits of switching to paperless forms.
Why are vehicle inspections important?
A successful organization will begin evaluations by asking, how will this benefit the consumer? A happy, returning customer means a fruitful business. 
Vehicle inspections are one of the most important processes in a trucking fleet's entire operation. Routine inspections keep your equipment safe and efficient while protecting your assets. Considering the condition of your fleet is the core of your company's functionality, confirming all necessary tools are ready to serve your customers at any given notice is vital. Inspections also put your drivers, technicians, service facilities, and administrative team on the same page.
What are the benefits of paperless vehicle inspections?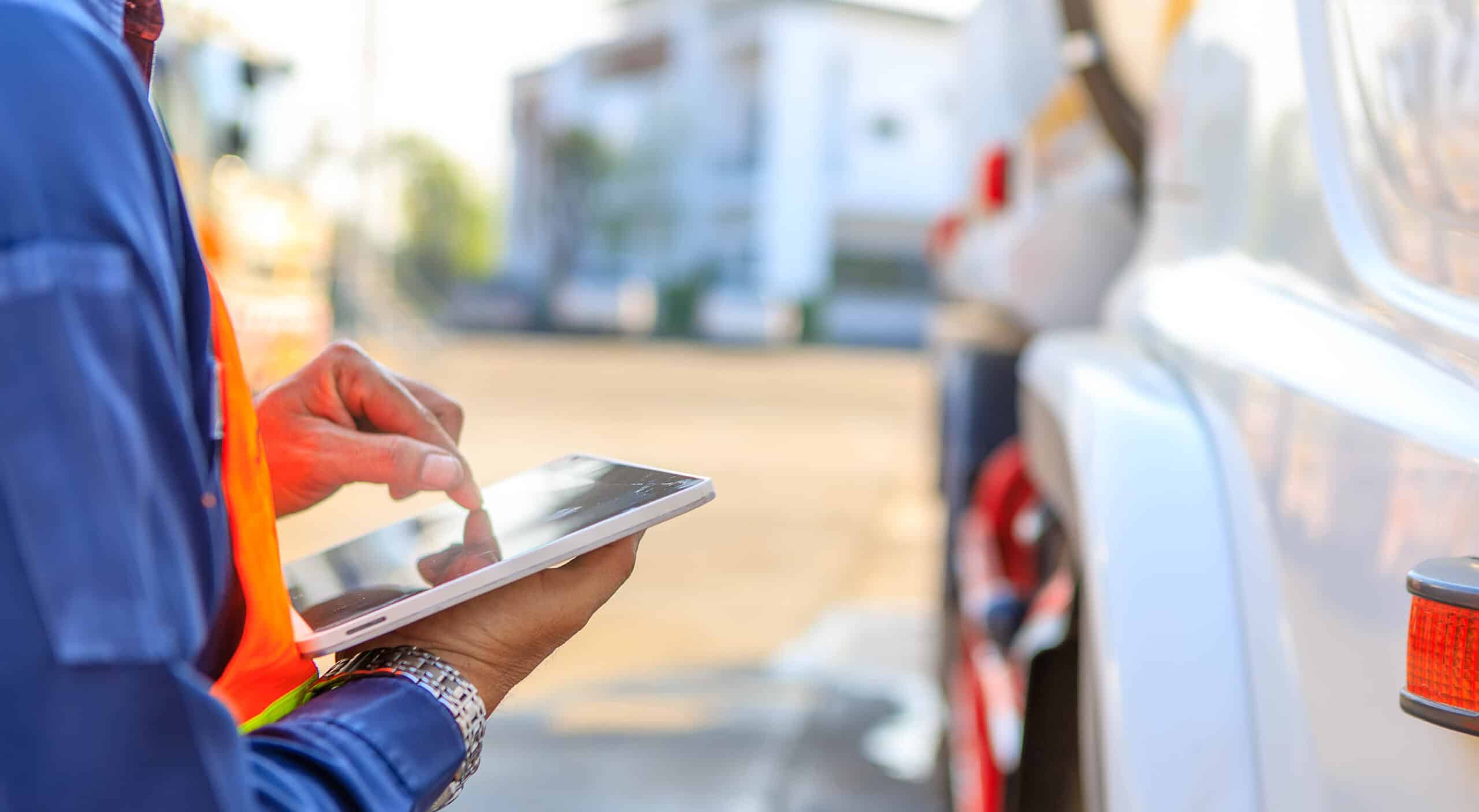 Streamline Your Operations
Inspections for your entire fleet are already complicated enough. Switching to electronic vehicle inspections rids your workplace of cluttered desks and disorderly thinking. Removing scheduling conflicts, potential errors, on-site meetings, and commute time will provide a clearer platform for you and your team to work.
Fleet management is all about the bottom line, but successful fleet managers understand that a better bottom line requires a balancing act. Finding the equilibrium between efficiency and value is what provides an empowered, high-performing team. Handling vehicle inspections digitally help achieve that result.
Save Time
Paperless inspection forms manage to save you time without compromising the quality of the assessment. With paper logs, it's standard to perform a 15-minute pre-trip and post-trip inspection, but unless a huge issue is apparent, that's more than enough time for a driver to conduct a thorough inspection.
Additional time inspecting a vehicle is never a bad thing, as extra attention can help maintain an effective preventive maintenance plan and a dependable safety record, but drivers will often find themselves able to conclude the assessment far quicker than the allotted time. 
Initially, it may feel counterproductive, but electronic forms are typically more extensive than paper logs. This actually saves time in the long run by pulling all information necessary from the beginning. Also, from someone who is extremely knowledgeable about the performance of the vehicle: the driver. 
Efficiency is still key here. Even if drivers spend the same amount of time filling out electronic inspections as they did with paper forms, consolidating the task will eliminate stacks of forms on everyone's desks and ultimately save time. 
With digital forms, all documents are essentially automatically filed. All applicable data will be synchronized with your team and available to your reporting system. There will be no need to fax papers back and forth and no chance of misplacing any records. Say goodbye to filing, storing, and disposing of files.
Reduce Costs
There's a reason "time is money" has remained a classic saying. Although, when it comes to fleet management, saving time is just one of the ways to make your business more profitable. Adapting paperless vehicle inspections can directly cut costs. 
With required Electronic Logging Devices (ELD) and the variety of exemplary maintenance management software on the market, fleets have the opportunity to be multi-faceted like never before. Utilizing software like Fleetpal allows you to digitize your driver-vehicle inspection reports (DVIR) and eradicate paper and printing costs, saving you a fortune. 
As fleet organizations grow, so do overhead costs. Although, electronic inspection forms have a fixed price structure which means your fleet can expand without increasing the costs of your inspection program. The more trucks in your fleet, the higher your profits and savings can be.
Eliminate Errors
Inspections provide critical data regarding the functionality of your fleet's vehicles which can then be used to better your team and business. Small and mid-sized fleets particularly rely on this data to uncover any problem areas keeping them from expanding into a larger enterprise.
When inspection results begin on hard paper, the process doesn't end there. Important data is passed through many hands before landing in its final location. There are a series of steps that follow in order to properly record the data, which unfortunately leaves a lot of room for human error. 
The data received in a paper report isn't necessarily unified, which means that multiple team members then need to translate the data and share it with the appropriate personnel. Not to mention all data inevitably needs to be entered into management reports and electronic records anyway. This long and arduous process only poses a risk to your company. 
The longer it takes for an inspection report to make its way from the driver to the server, the bigger chances of someone making a data-entry error, and that can end up costing a company significantly.
Eco-Friendly
A greener business plan not only benefits the environment but also conveys an institution's dedication to the community. More and more companies are emphasizing their ethical principles and including a green future in their corporate vision. Aside from the general convenience that technology brings to the public, it drastically minimizes paper use. Data shows that U.S. offices use approximately 12 trillion sheets of paper each year, accounting for 50% of businesses' yearly produced waste. That means even a single piece of paper can have an environmental impact.
Doing your part to reduce environmental impact can be a huge element of your company brand. Telling your customers that your company is part of the solution is an important way to build customer loyalty. Going green will better the environment while saving your company money and establishing strong core values. Your fleet will immediately see the savings and benefits of a paperless inspection program.
If you're ready to make your fleet's inspection program paperless, Fleetpal can help
Using Fleetpal to manage your fleet's preventive maintenance program will set your team up for success. You'll be able to build templates for both pre and post-trip inspections, track progress with management reports, and communicate freely with your entire fleet.
If your fleet is seeking the right tools to make the switch to paperless, Fleetpal is the place to start. Our work order management software solves every challenge your fleet may have been facing and guards against any arising issues.