Reach Optimal Fleet Performance With Our
Trucking Fleet Management Software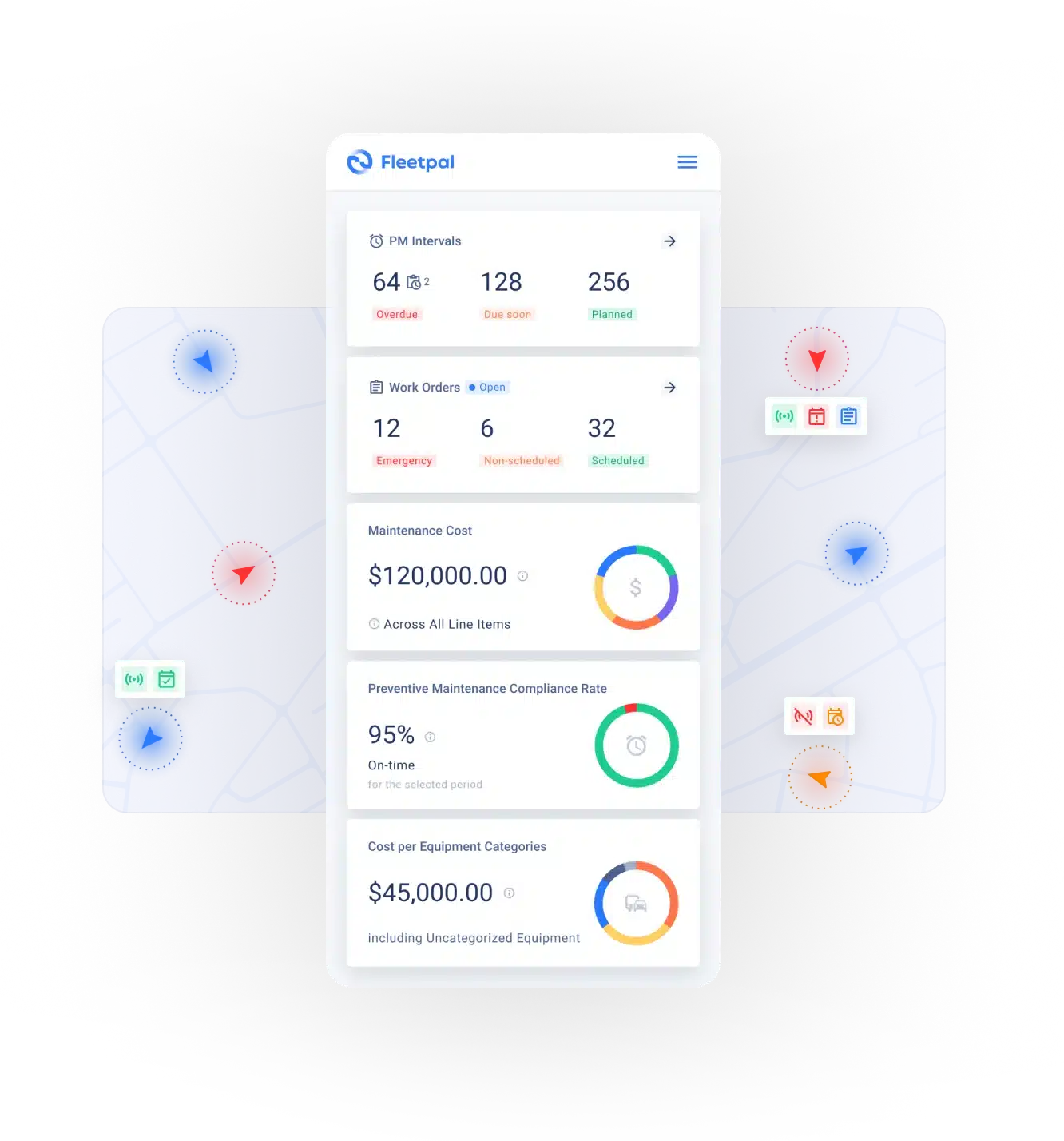 Take control of your truck fleet's inefficiencies and optimize your performance. Designed to empower fleet managers and owners, Fleetpal gives you access to all the critical data you need in one place. Enjoy greater visibility into your fleet's performance and easily identify areas that need improvement. Make data-driven decisions and enhance your business's bottom line.
Downtime, unexpected repairs, and unnecessary spending are not an option.
Ready To Start? We're Offering You A Free Trial With No Strings Attached.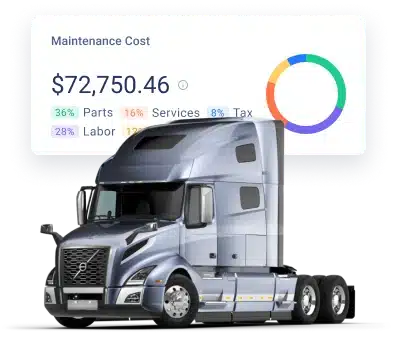 A Truck Fleet Maintenance Management Solution Recommended By Trucking Businesses
Fleetpal allows us to track almost all components of a truck. The online fleet maintenance software organizes the parts in different categories and subcategories, so we can see where we are spending the most money. It also keeps track on truck parts and their warranties.
Easy to use! Entering work orders into the system is just a matter of point and click, less searching for different items and topics in the web-based fleet maintenance software. Excellent way to track expenses per unit making it easier to calculate CPM on each vehicle, thus helping decide which units need to be replaced rather than just how old a vehicle is or how many miles.
Truck maintenance can be expensive. Before using FleetPal, it was a pain to keep track of maintenance costs and records. Now, I can input data and keep track of costs in a simple fleet maintenance software.
A Truck Fleet Management System Designed For Businesses Just Like Yours
No matter what type of fleet you're running, our trucking fleet management software has all the capabilities you need. At Fleetpal, we take into account the specific needs of every type of trucking business and offer a one-stop solution for all. Our software is designed to help you tackle a wide array of industry challenges:
Powerful Trucking Fleet Maintenance Software Features & Capabilities
Preventive Maintenance Tools
• Put reactive maintenance behind
• Streamline your truck maintenance workflows
• Receive service schedules and reminders
Shift From Reactive To Proactive Fleet Management With Insights & Data
• Gain visibility into every detail of your fleet
• Utilize intuitive dashboards and reports
• Obtain key fleet operational and analytical metrics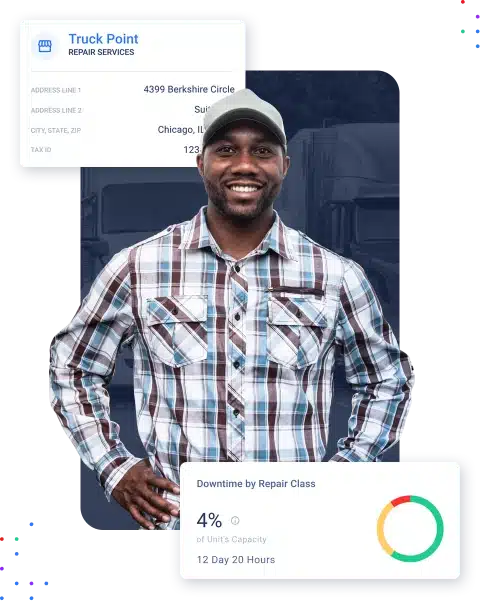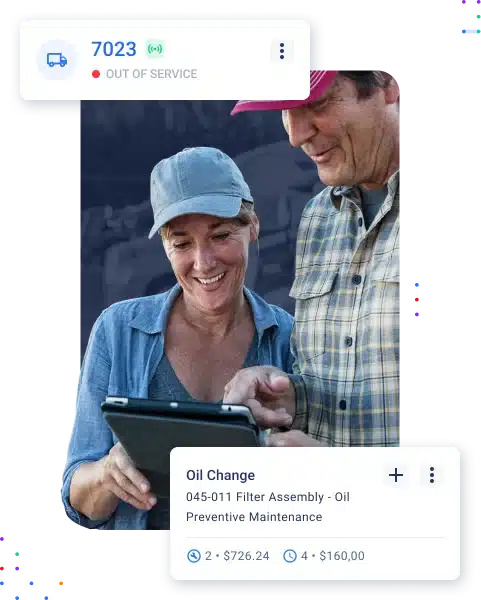 Uncover Cost Reduction Opportunities
• Avoid costly emergency repairs 
• Slow down vehicle depreciation 
• Reduce downtime and exploit your fleet to the fullest 
Valuable Multi-Channel Data At Your Fingertips
• Take advantage of third-party integrations
• Manage vendor work orders and external relations
• Advanced reporting that is easy to use for all
Powerful Fleet Management Software Features & Reports
View operational and analytical reports with key metrics in real time. Take the guesswork out of fleet management and make data-backed decisions. Our cloud-based fleet management software makes reporting easy for all.

Stay organized with a separate vendor directory for quick access to critical information about your vendor relations. Gain visibility into your vendor costs, work orders, parts, and more. 

Hit the brakes on vehicle deterioration. Store all of your fleet units in a single platform and solve one of the biggest roadblocks of all – vehicle lifecycle management. Make accurate forecasts on vehicle repairs and replacements.

Get a bird's-eye view of your repair shop's parts. Streamline reordering processes and avoid repair delays. Enjoy better visibility into parts' usage and costs to make more informed purchasing decisions.

Use our Telematics-powered fleet management system to receive valuable data, facilitating the management of preventive maintenance and swift response to vehicle problems.

Leave paper work orders in the past and step into the future with digital work orders. Optimize your maintenance and repair workflows, track service histories, and monitor expenses for internal repair shops and vendors.
What is fleet management for trucks?
A fleet maintenance software for trucks is a specialized software application designed to help trucking companies and fleet managers manage the maintenance of their commercial vehicles. The software provides a range of tools and features to help automate and streamline maintenance processes, minimize downtime, and reduce costs.
What are the advantages of a trucking company fleet maintenance software?
A reliable trucking company fleet maintenance software offers a range of advantages, including improved maintenance scheduling, increased vehicle uptime, reduced costs, better compliance, and enhanced reporting and analytics.
What does the free demo include?
The Fleetpal free demo offers a 14-day trial of all features and capabilities in the platform. Start creating your digital database of trucks, repair shop inventory, and vendor catalog. Use work orders, preventive maintenance intervals, reporting, and more – all for free.