If you are a fleet manager or fleet owner in 2023, you have probably used some or the other AI-enabled system in your daily operations. As artificial intelligence tools like Chat GPT become a mainstay in 2023, AI tools are being created for various functions. For logistics and supply chain businesses, artificial intelligence has been present for some time via transportation management systems (TMS), fleet management and maintenance systems (FMS), warehouse and inventory management systems (WMS), and more. 
These tools famously harness the power of machine learning and artificial intelligence to study historical and present data from various business verticals to help fleets and logistics companies find out significant insights. As a fleet owner or a fleet manager, you've probably dealt with some form of AI too! So, is AI really worth all the hype? In this article, we'll look at how you can leverage the power of AI or artificial intelligence to optimize your fleet operations.
Why is Artificial Intelligence (AI) important to fleet managers and fleet owners?
Artificial intelligence is making inroads into the fleet management landscape. Fleet managers and fleet owners like you are now realizing that AI is not meant to replace them but rather to help them be more productive and efficient in their roles. AI can assist fleet managers in meeting their business objectives and closely monitoring their fleets. It aids in prioritizing driver safety without sacrificing cost or efficiency. It also allows you to keep track of all fleet operations and make decisions in real time. The combination of GPS and artificial intelligence significantly simplifies the lives of drivers and fleet owners or fleet managers with route recommendations, road risk analysis, and even driver coaching.
Apart from this, AI can also help supply chain and logistics companies make important business decisions thanks to data analytics, data modeling, and business intelligence functions. Essentially, AI fills a crucial gap for fleet owners, fleet managers, and logistics players, helping them gain insight into their operations and inefficiencies.
In fact, according to asurvey, safety monitoring systems use IoT and AI to help drivers make better decisions, preventing up to 63,000 crashes annually and making the road safer for everyone.
This is a clear indication that fleet managers and fleet owners can make the right decisions for their businesses due to data-driven insights. If data is something you are struggling with as a fleet manager or fleet owner, you need to start looking into more AI applications that help you automate tasks and derive insights.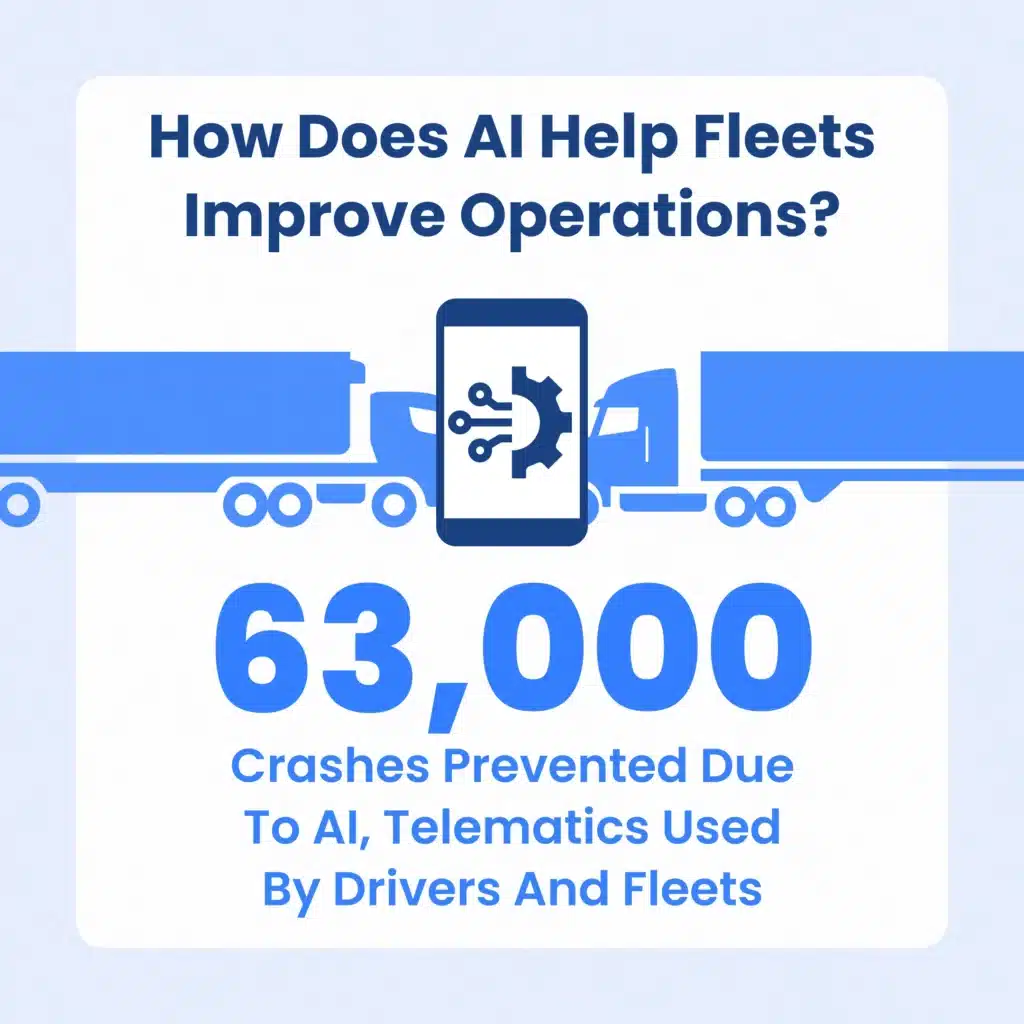 3 Ways supply chain, logistics companies can leverage AI
Automating warehousing process through robots:
As integral components of modern technology, machine learning and artificial intelligence contribute significantly to various technological innovations, synergizing hardware, and software to enhance logistics processes. A recent development that exemplifies this fusion of artificial intelligence and other advanced technologies is the deployment of Automated Mobile Robots (AMRs) in warehouse settings.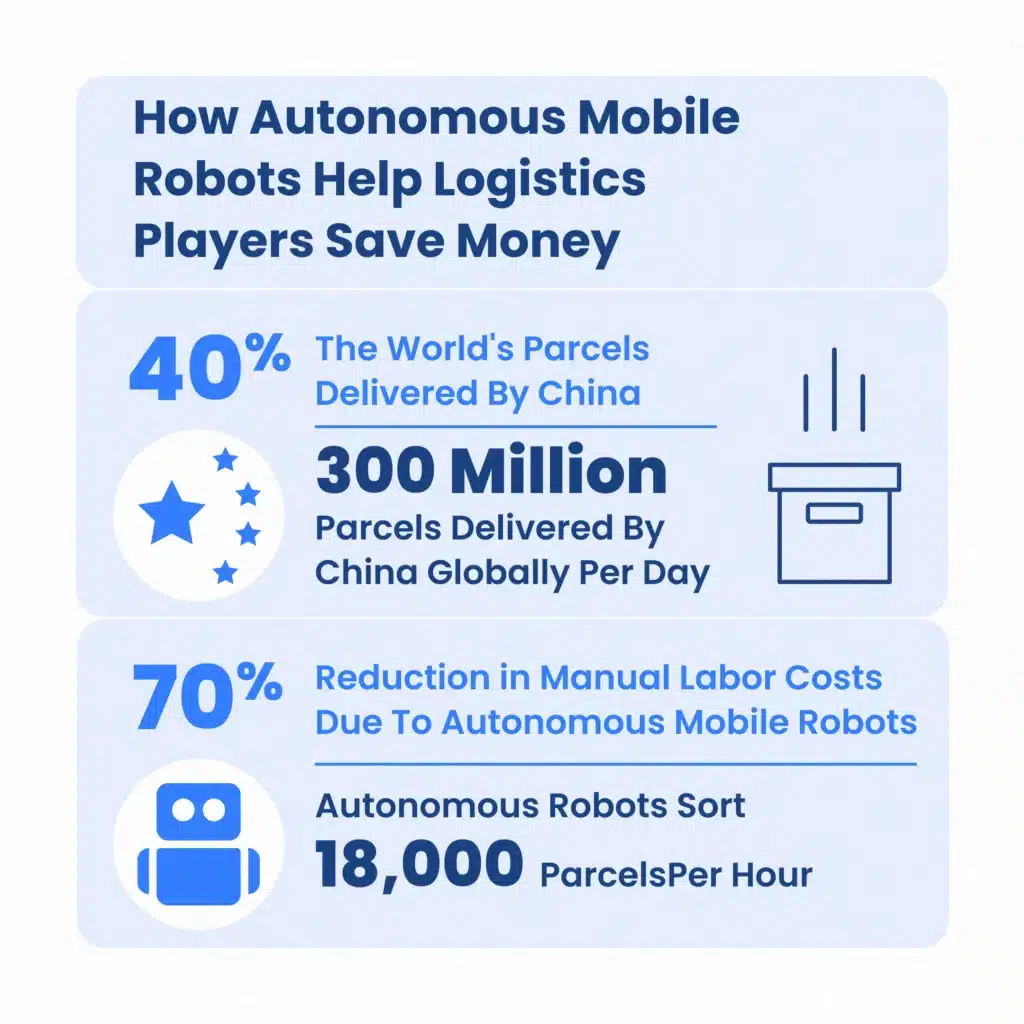 As China accounts for a staggering 40% of global parcel deliveries, amounting to approximately 300 million parcels per day, there was a pressing need for a system that could boost both speed and accuracy in warehouses. This challenge was met by the implementation of Automated Mobile Robots (AMRs), which possess the capacity to sort up to 18,000 parcels per hour while simultaneously reducing manual labor costs by 70%.
Automated Mobile Robots (AMRs) employ telematics technology to efficiently manage inventory movement within a warehouse. By leveraging onboard computers, sensors, and maps, these compact and nimble robots accurately perceive their environment and can meticulously identify and process information on each package. Throughout the sorting procedure, AMRs enhance efficiency, accuracy, and security.
By streamlining repetitive tasks such as sorting, AMR robots allow warehouse staff to focus on more inventive and cooperative roles. This shift contributes to improved inventory accuracy, which in turn minimizes fleet downtime. These versatile robots can also conduct daily inventory cycle counts and assist with picking and sorting tasks. For example, counting robots equipped with RFID sensors and scanners can inspect inventory from distances up to 25 feet. Consequently, artificial intelligence not only facilitates the collection of more precise inventory data but also aids in the prevention of inventory theft.
The growing prominence of artificial intelligence has led to the increased adoption of self-driving trucks and vehicles in the mainstream. While fully autonomous vehicles are still under development, developers are actively testing various iterations of self-driving trucks.
For instance, Kodiak, an Original Equipment Manufacturer (OEM) specializing in autonomous vehicles, operates its fleet across ten US states, conducting test runs and transporting customer cargo between its Dallas headquarters and four other cities: Houston, Austin, Oklahoma City, and Atlanta. Recently, Kodiak completed a pilot coast-to-coast run from San Francisco to Jacksonville, Florida.
Autonomous trucks have the potential to address the considerable labor shortage and retention issues currently plaguing the logistics industry. The American Trucking Association predicts a driver shortage of 64,000 in 2023, with the number expected to exceed 82,000 by 2024. By employing self-driving vehicles or fleets with minimal human intervention, labor shortages will become less of a concern for fleet owners and managers.
A report by the Boston Consulting Group suggests that autonomous driving technologies could reduce the total cost of ownership (TCO) for long-haul trucking by over 30%.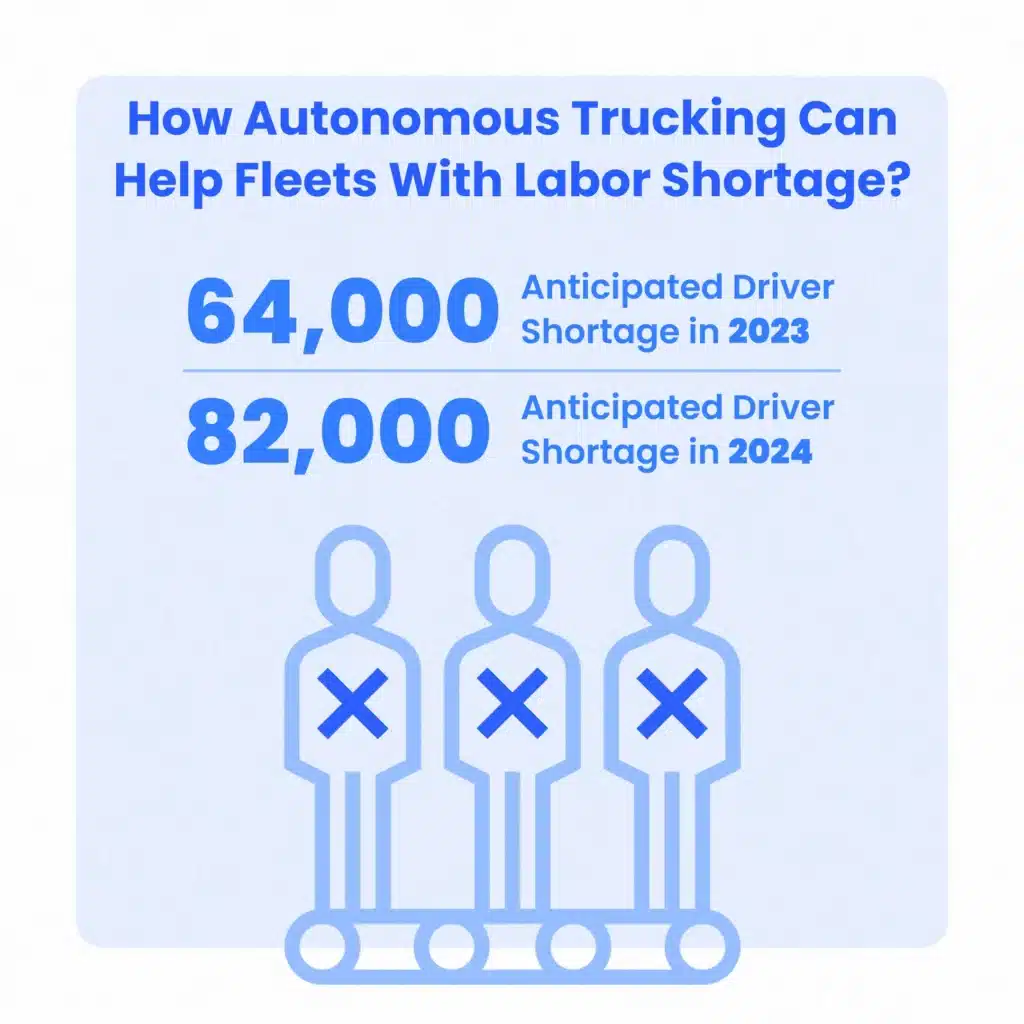 By eliminating the need for trucks to idle during driver rest periods, vehicle utilization could more than double, leading to substantial productivity gains and reduced downtime. Consequently, this AI-powered innovation in logistics has the potential to yield significant labor savings and heightened driving efficiency for fleets.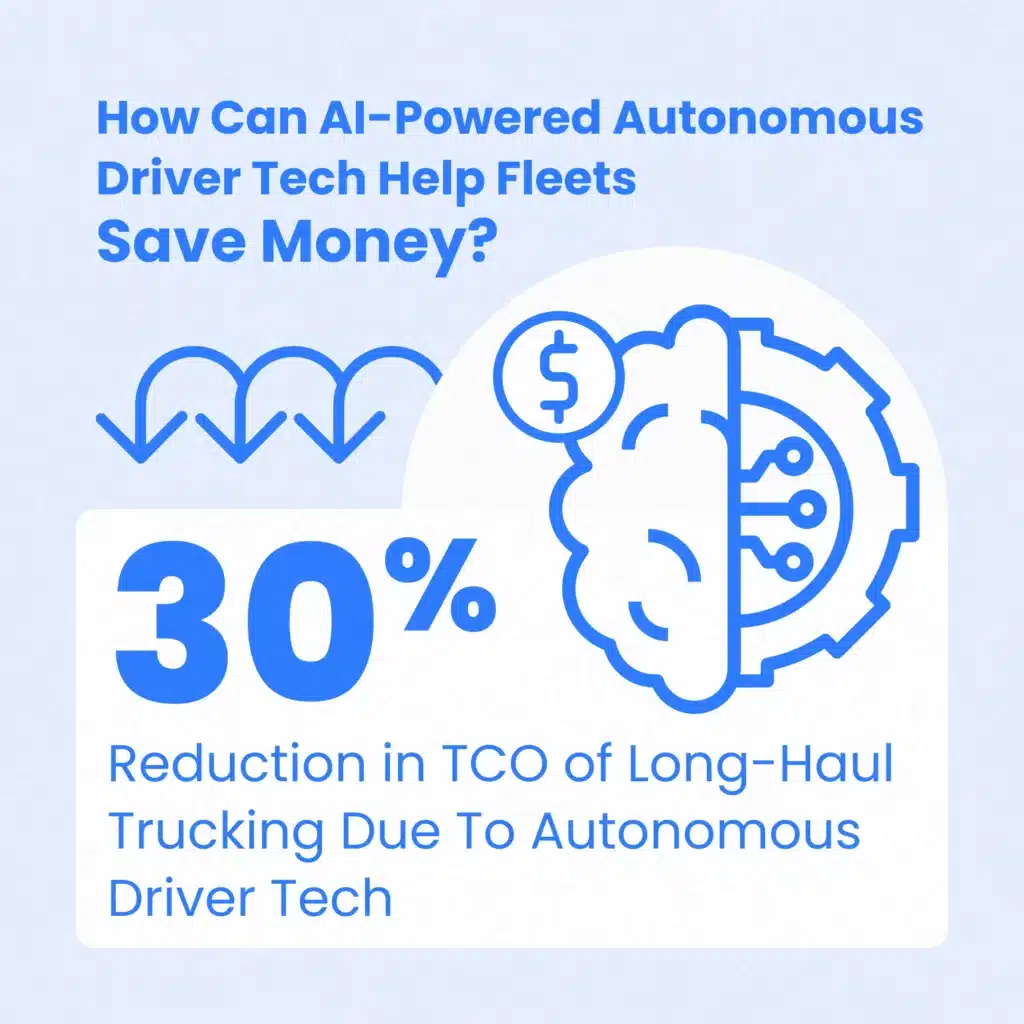 Using AI to gain real-time supply chain visibility to predict business insights
As a fleet owner or manager, you are likely well-acquainted with numerous AI applications prevalent in the industry today. Functions such as automating invoicing and work orders through transportation or fleet management systems, scheduling preventive maintenance via fleet maintenance platforms, and several other technology-driven applications of artificial intelligence have become integral to the logistics sector.
Artificial intelligence plays a crucial role in numerous applications within the logistics industry, one of which is route optimization. According to a study, route optimization can potentially reduce fuel consumption by up to 20%, consequently lowering carbon emissions and promoting long-term sustainability. Various systems and tools offer real-time supply chain visibility, enabling fleet owners and managers to access optimized routes based on real-time data combined with AI.
For example, Microsoft recently introduced new AI capabilities to their supply chain platform, Dynamics 365 Co-Pilot, enabling shippers to identify and react to potential disruptions. Supply chain managers can use Co-Pilot within Microsoft's Supply Chain Center platform to monitor external risks, such as weather, and generate predictive insights. When Co-Pilot detects a risk, supply chain planners can send alerts and mitigate potential disruptions by adjusting the route or updating other relevant information.
As a fleet manager or owner, it is essential to ensure that your assets operate efficiently and effectively. Telematics tools like RFID sensors, GPS, and driver HOS data provide visibility into asset locations. AI-based fleet management and maintenance software can help fleets analyze this data to estimate potential downtime, route optimization, vehicle maintenance needs, and more. Utilizing artificial intelligence for various fleet-related tasks can result in improved efficiency and cost savings.
By integrating data from diverse systems, tools like Fleetpal can provide comprehensive visibility into your fleet's performance. AI-enabled systems can help you derive insights from data collected through various technologies and management platforms. This information can guide decisions to increase profits and grow the top and bottom lines. Contact us today to learn how our Fleetpal maintenance management software facilitates collaboration among fleet managers, maintenance managers, and suppliers.